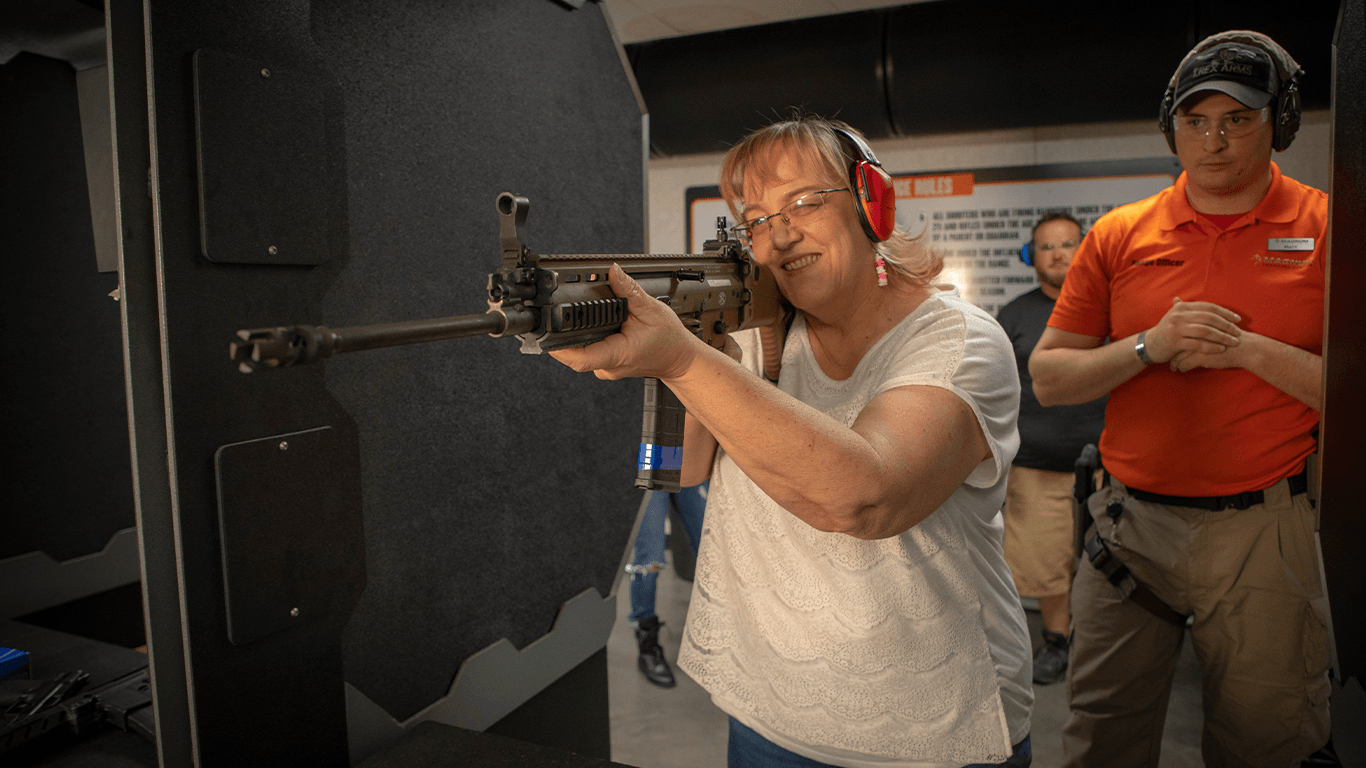 Do I need to be a member to shoot at Magnum Shooting Center?

No. Our range, services, training classes, retail shop, and gunsmith services are all available to the public for a cost. Our membership programs are designed so that frequenters to the Center can save money, have priority lane reservations, and receive other member-only perks.
How much does it cost to shoot as a non-member?

It costs $25 to shoot on the range per hour. However, we do offer specials, so keep your eyes open for non-member deals. They are announced on our website, Facebook page, and through email.
I live out of state. Can I still shoot on the range?

Yes. You need only provide a government issued photo ID and pay the non-member fee.
What are membership options, pricing, and perks?

We have great options for Individual, Couples, or Family Memberships. Members get exclusive discounts, lane reservations, unlimited use of the range, class discounts, and more. Find out more here.
When do I need to pay the one-time registration fee?

Your registration fee is due when you sign up.
When do you begin charging monthly membership dues?

Your membership dues will kick in after you sign up.
Can I get a Corporate membership if I'm not in a corporation?

In addition to corporations, we also accept non-profits and other organizations to choose a Corporate Membership.
Can I transfer my membership to someone else?

No. Your membership is non-transferable.
Do you buy used guns for cash?
Do you offer guest passes?

Yes, but the number of guest passes vary by membership. As a guest of a Magnum member (who is providing you with a guest pass) you can shoot on the range for free, with their guest pass. If the member has run out of yearly guest passes, the guest may still shoot on the range for the regular, $25 non-member fee.
I am a Magnum member who is out of guest passes for the year. How much is it to bring a non-member into the facility?

The non-member may shoot on the range for $25 (unless there is a special at the time of visit). You, the member, may also choose to purchase additional guest passes for $25.
Can a guest of mine use my guest pass without me present?

No, you must be present for your guest to be allowed to use your guest pass. But, he or she may shoot on the range for regular, $25 non-member fee.
Can my guest and I have two separate lanes?

Guests of members using guest passes may not reserve a lane. This is to ensure that members have priority access over guests and walk-ins. A guest may request a separate lane while checking in to the Center, but depending on how busy the facility is, a separate lane may not be available. In this case, the member and guest may share the member's reserved lane.
Can I reserve a lane?

Members may reserve lanes; non-members may not.
How long will you hold my lane reservation?

We will hold your lane reservation for 15 minutes. If you can't make it within that time, we reserve the right to fill it with other customers who are waiting to use the facility.
Can I reserve particular lanes?

We will try our best to reserve specific lanes or adjacent lanes at a member's request, but we can't guarantee it. Reservations are always subject to availability.
Can I take photographs or video?

Yes, you may take photos or video of your own party.
Do you have a dress code at Magnum Shooting Center?

No, but we encourage closed toe shoes and long pants in the facility. You are required to wear eye and ear protection while in the firing range, even if you are not shooting.
Do you offer a military discount?

Yes, we offer a discount on the membership registration fee for active duty service members. We also offer a registration fee discount for retired military and first responders. Click here for details on the membership discount.
TRAINING AND NEW SHOOTERS
What courses and training do you offer at Magnum Shooting Center?

We have many class offerings at Magnum for all different skill levels. Whether you need the basics in handgun form and handling, want your Concealed Carry Permit, or you want to improve your accuracy while shooting on the move, we have a class for you! Click here for a breakdown of all the classes and training that we offer at Magnum.
If I've never shot before, do I need to take a class before using the facility?

No, it is not required of you to take a class before shooting our facility. However, to improve your comfort level for your first-time shoot, you may want to consider taking a beginner course for the basics in safety and handling. If you would prefer to shoot on our range without a basic course, we would encourage you to request basic instruction before shooting on the range. Our Range Officers will be more than happy to assist you.
FIREARMS, AMMO, AND TARGETS
Do you sell firearms and equipment at Magnum Shooting Center?

Yes. We have a wide variety of firearms available to purchase. We also sell suppressors, class 3 firearms and accessories, night vision equipment, limited edition weapons, body armor, tactical gear, custom ammunition, and more.
Do you allow shotguns to be used on the range?

Yes. Shotguns with slugs are allowed on the range. NO BIRDSHOT, and only occasional buckshot in classes.
Do you buy used guns for cash?
What services do you offer?

We offer a full-service gunsmith shop for all pistols, rifles, and shotguns. The services include repairs, modifications, custom builds, and more.

STAY IN THE LOOP
GET UPDATES
Subscribe today for exclusive offers, updates, and more!